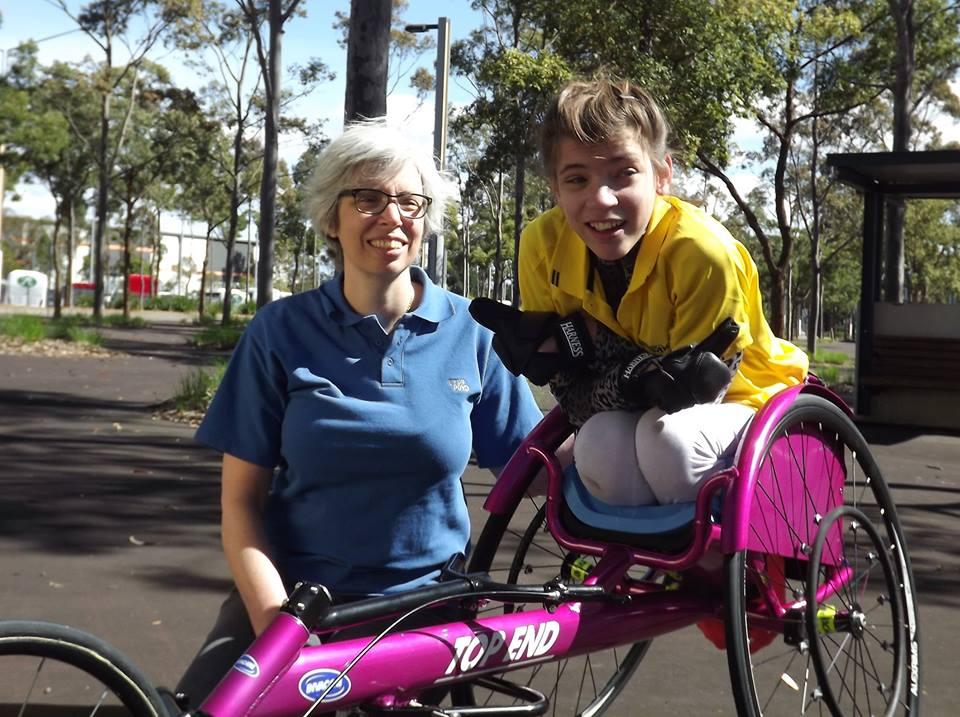 What Wheelchair Sports NSW means to one person..
Submitted by
MyCareSpace
on Fri, 03/03/2017 - 20:20
Imagine the joy of the birth of your child only to be told your child has brain damage. Your daughter has cerebral palsy. This was the shocking news Meredith received about her daughter Sarah.
Sarah is now a vivacious and highly intelligent 12 year old who attends the weekly Wheelchair Track Program under the tutelage of Paralympians Angie Ballard and Louise Sauvage OAM at @WheelchairSportsNSW. 
Sarah comes from a sporting family - all of them are swimmers and Sarah's older brother Jamie is a rather good rugby and water polo player, whilst her sister, Eleanor is an accomplished gymnast. The first time Sarah raced 100 metres at her school athletics carnival she had a go in her day chair rather than a proper racing chair. Determined to ensure that Sarah's disability doesn't relegate her to the sidelines, Meredith has taught Sarah that her disability should not mean that limits are placed on her. A chance meeting with the mother of one of Wheelchair Sports NSW (@WSNSW) junior members led Meredith to contact the organisation to find out more. 
"Through the wheelchair loan scheme, we initially borrowed a multisport chair which was more stable than her day chair so she could participate in the 100 metre race at the school sports carnival" said Meredith. This led to her involvement in the Wheelchair Track Program with Wheelchair Sports NSW and the loan of an actual racing chair. "The chair had been used by the likes of Kurt Fearnley OAM, Louise Sauvage OAM and Angie Ballard – so there was a sense of history and belonging" she said. 
"For her, for athletics, no, she couldn't do it without the equipment – we couldn't do it without Wheelchair Sports NSW" Meredith said. Meredith is so grateful for the opportunities and support that WS NSW has been able to give Sarah.
"It's not just the equipment, it's the giving of time and care - Angie Ballard came to a training session at school to help Sarah and talked to all the able bodied girls as well. She stayed for the entire session and created a program for Sarah to follow so that she could train with the other girls at school during the week". "Since Sarah's involvement with wheelchair sport, I've noticed an increase in Sarah's confidence and that she can do anything. 
Now, within the school, she is valued and celebrated. There's knowledge passed on to us from Angie and others that we couldn't just pick up ourselves. The people in the track group are role models for Sarah - she can relate to them in terms of her disability. She has grown a real sense of independence". 
Whilst Sarah has her sights on competing at the highest levels, what she loves most about the Wheelchair Track Program are her friends. She is now entrenched in the strong and supportive culture of our wheelie family and as a result, Sarah is thriving. "The mentoring program is excellent - where they are paired with a senior athlete who provides technical training and tailored tips but also inspiration on what's possible in sport and in life. I only wish we'd found Wheelchair Sports NSW earlier" says Meredith.
I asked Sarah what WS NSW means to her and her response was this – "it's family".
---
Angie Ballard:https://www.paralympic.org.au/athlete/angie-ballard/
https://www.facebook.com/angie.ballard.9
Louise Sauvage: http://corporate.olympics.com.au/athlete/louise-sauvage
Kurt Fearnley: https://www.facebook.com/kurtfearnleyracing/
Photo's of Sarah and her mom Meredith have been shared with the consent of @WSNSW