Paralympian Skier Melissa Perrine wins Bronze!
Submitted by
MYCARESPACE ADMIN
on Wed, 03/14/2018 - 21:40
Meet our latest medalist at the 2018 Paralympian Games, Melissa Perrine.
This is what she was saying before the paralympics:
According to the official Australian Paralympiam press release said: "A near-perfect Slalom by Melissa Perrine and sighted guide Christian Geiger handed the NSW Southern Highlands skier her first Paralympic medal at her third Paralympic Winter Games in PyeongChang today.
After empty campaigns in Vancouver in 2010 and Sochi in 2014, Perrine is now a Paralympic medallist - a month after turning 30. Happiness swept over her immediately.  "That's an understatement," Perrine said, when asked to describe her emotions after waiting so long for Paralympic success.
"She's had some bad luck but it's just made her stronger," her mother Denise said after embracing her daughter following the race.
Mrs Perrine, dad Ronald and brother Nick, have come to South Korea from their home in Mittagong and must have been the lucky charms she needed. 
"My family have never seen me ski before and it's the first time mum's been overseas. It's a miracle that she can be here and it's so great they're able to see it," she said. "They've sacrificed so much and given me so much throughout my life. They and my brothers and everyone back home, my entire extended family, they've just been amazing my entire life and I'm so happy they can be here to share this."
The hug Mrs Perrine gave to Geiger, who skis in front wearing a bright orange bib, was almost as long as the one she saved for her daughter. Perrine and Geiger communicate on the course via headphones in their helmets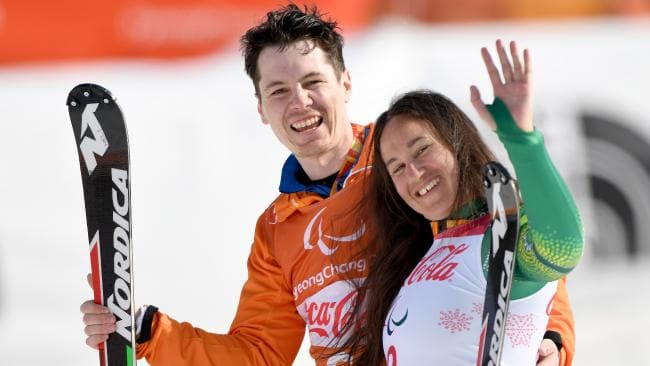 Above: Melissa and her guide Christian Geiger
"This guy has unending faith in me and he has turned me into a bit of a technical skier," Perrine said. "I started off my career as a downhiller, a speed skier, but he's resolutely turn me into something I'd never thought I'd be. 
"He's a great friend and an awesome guy and an even better coach."
Melissa has since gone on to win her second bronze medal in two days, in the Giant Slalom!
What's that saying... "Believe and together we're invincible"!!