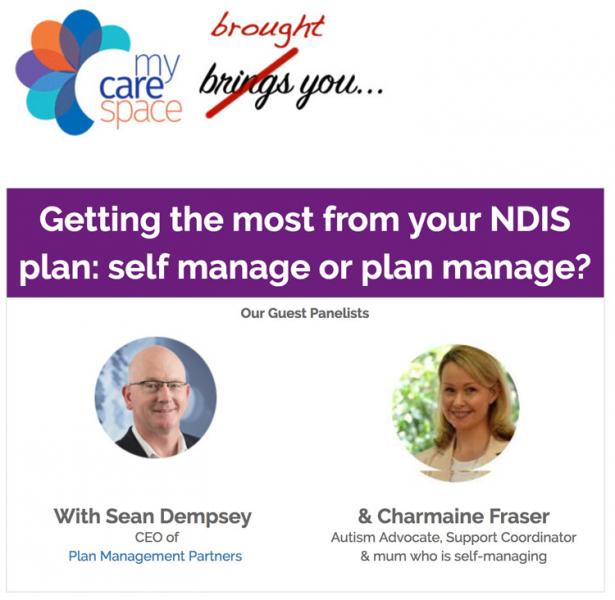 The webinar which was hosted by Nicole Gamerov (CEO of MyCareSpace), covered 3 areas:
Getting Ready for your NDIS Plan
Understanding the difference between Plan Management and Self Management (we also compare plan management to support coordination)
Ongoing Success: finding and engaging providers, left over funds
NB: It's become clear that people living in rural and regional areas that are struggling to find providers, will benefit immensely from these two funding options as they give you flexibility to engage with non-NDIS registered providers
Resources and Links (as referenced in the webinar)
Evidence of Disability
Eligbility – age 0-65, residency and disability.
Evidence of disability can be demonstrated in 2 ways:
Have your treating doctor or specialist Fill in Section F
Submit existing assessments or reports (not less than 2yrs)
The NDIA have list of conditions that 'automatically qualify' that includes:
ID (moderate, severe, profound –less than 55)
ASD level 2 or 3
CP (severe, 3,4 or 5 on the GMFCS)
Various genetic conditions
SCI or brain injury
Blindness
Deafness
Amputation (2 limbs)
If you are not on the 'priority' list - then you have to provide evidence of the impact of the condition on your life (functional capacity) across the areas of: mobility, communication, social interaction, learning, self-care and self-management.
You will note that ASD Level 1 is not on the VIP list, so understand functional capacity and now to address it.
Ref: NDIS evidence of disability
Pre Planning
NDIS Planning Workbook (book 2)
NDIS Pre Planning Workbook by Everything Counts
Pre Planning Workbook for a Child
Pre Planning Workbook for an Adult
Reasonable and Necessary
Plan Management Partners: Understanding what is reasonable and necessary
Article on what is reasonable and Necessary
NDIS rules on 'Reasonable and Necessary'
Podcast on Reasonable and Necessary
Funds Management Options
A Comparison of the features of Plan Management vs Self Management of your NDIS Plan
Overview of Funds Management Options
Community Disability Alliance Hunter (CDAH) offer Peer Support Groups on Self Managing
Self Managing
NDIS info on Self Managing Budget
Learning the Skills to Self Manage
Payment Integrity, Fraud and Misuse of Funds
Plan Management
A Guide to Finding the Right Supports Under the NIDS
Plan Management - A Guide to Managing your NDIS Funds
Choosing Providers
Everything you need to know about unregistered providers
NDIS info on engaging your own staff
MyCareSpace resources may not be replicated or reproduced in any form without express permission.