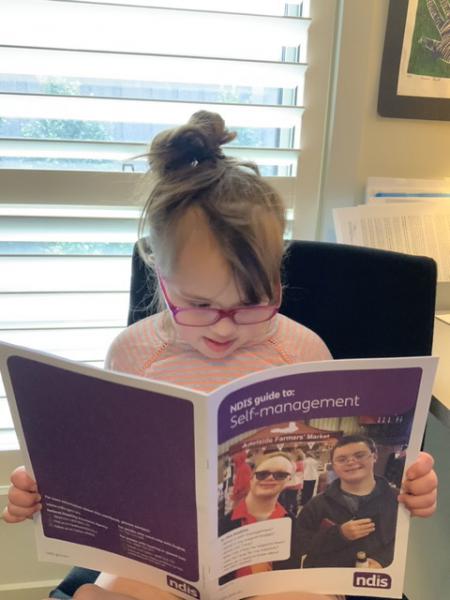 We asked one of our members to share their practical experience about making the decision to self manage and what it actually involves - a question we receive weekly at MyCareSpace. Here's what she had to say:
During an NDIS planning meeting you will be asked how you would like to manage your NDIS funding.  You have a choice between self-managed, plan-managed, NDIA-managed or a combination of all three.
If you are unsure which to choose you should know that self-managed will ALWAYS give you the greatest flexibility over your funding.
Being self-managed means you are not bound by the NDIS price guide.  For example you can pay a higher hourly rate for a therapist if you think they are worth it. 
You can pay any provider or buy any support as long as it is legal and safe, it will help you achieve your plan goals and you have the funding in your budget. 
A useful checklist on Page 10 of 'Booklet 3 -Using your NDIS plan' will help you to know what you can spend your funding on.  If you can tick all the boxes in this checklist then you are good to go!
How difficult is it to self manage my NDIS plan?
You may be thinking that self-management sounds like a difficult, time-consuming option.  But it's really no different to paying a regular household bill.  If you are doing that already, you are more than capable of self-managing. 
It takes me 3 minutes and 20 seconds to submit a claim for reimbursement and organise my records (yes I timed myself). 
The hardest thing about self-managing is just remembering to do it.
What do I actually have to do when making a claim as a self manager?
This is breakdown of what I do:
Print the emailed invoice. 
Enter the invoice details into a basic spreadsheet which tracks the budget totals. 
Log into the NDIS myplace portal via myGov and make a payment request by filling in the required information. 
After pressing submit, I print this page as it lists the payment request number. 
Record the payment request number on my spreadsheet. 
Generally, the funds will appear in my nominated bank account the next day. 
It then takes me another minute to pay the invoice, print a receipt and staple the invoice, payment request and receipt together and file in a folder.  It isn't even necessary to keep hard copies (that's just how my brain works). 
All your record keeping could be done digitally and there are even apps available to help you manage your payments/funds balance.  You can pick whatever system works for you.  You are simply required to keep records for 5 years in the event you are ever audited, which is no different from what the ATO require for tax purposes.  Over a month, I probably spend half an hour on the required record keeping.
How is self managing different to plan managing?
If you are someone who doesn't enjoy paying bills, then you might chose to be plan-managed instead.
This means someone else will pay the bills and keep records for you.  One disadvantage is that plan-managers have to stick to the NDIS price guide and may be less willing to let you be creative with the services or goods you purchase. 
You would also need to trust that your plan-manager is paying the bills on time and keeping you in the loop as to where your funding is at. 
I would recommend logging into the myplace portal to keep a track of your budget balances and approving every invoice before it is paid, in-case of billing errors.  So self-management is really only an additional step on top of this. 
The option of NDIA-managed gives you the least choice and control because:
you can only use registered providers and
are bound by the NDIS price guide. 
It is also a lot harder to keep a track of your funding as payments occur in the background. 
You have to trust implicitly that providers are charging correctly.  The MyCareSpace resources titled Self Management vs Plan Management shows you the difference between these three choices.
My experience with self managing
My daughter was one of the first NDIS participants in a trial area.  Her first plan was automatically set up as NDIA-managed because she was accessing state services (I didn't know any better). 
We moved interstate a couple of months later and her plan was switched to self-managed as the NDIS had not been rolled out in that state.  I was left to my own devices with no real guidance of what to do.  But it's not like that anymore. 
Back then, I didn't understand I had flexibility with how we used her funding.  If I had known that, I would have made different choices in the supports we chose to engage to help her achieve her goals.  There is now lots of information available from NDIS to guide you, peer support groups, courses (you can use some of your plan funding to upskill yourself) and online resources that can give you the knowledge and confidence that self-management is the right choice for you. 
Here are some practical tips and tricks for self-management:
Check each invoice you receive, providers make billing mistakes.
 
Photocopy or scan paper receipts because they can fade over time.
 
If you submit a payment request before 5pm on a weekday, the funds will usually be in your account the next day. 
 
Record the payment request number with each invoice.  In the event you are audited you will be asked for evidence of a claim related to a particular payment request number.  It will just be easier to find what you are looking for.
 
Open a separate bank account for reimbursement of your NDIS funds, it just keeps things tidier.  I have a separate account 'In Trust' for my daughter. 
 
You might choose to have a separate email account for all your NDIS correspondence, I just use a separate folder on my personal email account.
 
Ask your LAC or planner for a copy of the NDIS guide to:Self Management when you get your plan.
 
Listen to others experiences but take any 'advice' with a grain of salt, they may not be correct.  But you might learn some good ideas about how to use your funding.
So what can I buy with my funds when I'm self managing?
You will always hear people saying you can't buy this or you can't buy that when using your NDIS funding. 
But it is important to remember that what anyone buys with their self-managed funding will be different for each individual. 
Remember to use the checklist when deciding what you can spend your funding on and if you tick all the boxes then have confidence that you are doing the right thing.  Good luck!
*Please note: This is written from the prospective of a mum who is the nominee for my child's NDIS plan.  So while I talk about my plan, I understand that it is my daughter's plan and funding, not mine. 
MyCareSpace can offer you support in self-managing
As a self-manager, you are still not alone.
Our Connections Team will help you find options in your local area that meet your needs.

MyCareSpace resources may not be replicated or reproduced in any form without express permission.