Find below the most commonly asked questions and instructions are how to find the answers!
If this still doesn't answer your questions, please email us at provider@mycarespace.com.au 
 
MyCareSpace offers paid subscriptions that help you connect with customers.
Adding your business to our directory requires 2 steps:
Create a MyCareSpace Account

If you already have an account, login here
 

Add your business listing.

To add a Listing, follow these steps:

Click on My Account (if you are not logged in, you will see the login screen)


 

 

Click on the LISTINGS tab and then on the Submit a Listing link.


 

Now you can add your business details, starting with selecting the type of subscription you would like.

If you need help choosing the best subscription for you, call the MyCareSpace team on 1300 2888 93
Our subscriptions are based on the reach you wish to achieve:
Check the different options you can chose from here: Compare Subscription
or call our Provider Team on 1300 2888 93
Log into your account. one logged in, see the LISTINGS tab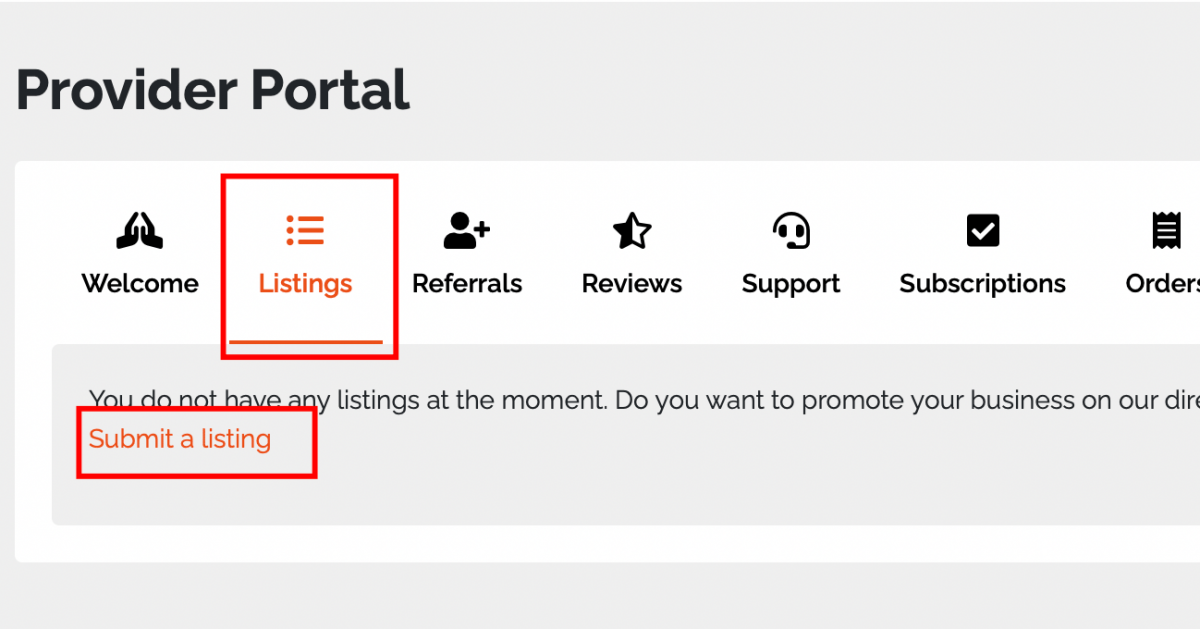 Select the listing you would like to edit by clicking on the edit button
You can now make changes and don't forget to hit SAVE!
Login first. Then click on the REFERRALS tab
Now you will see all your referrals.
Click the VIEW button to see the details of each one. Don't forget to update your referrals with your progress.
Login to your account.
Go to the ORDERS tab.

Click on the Order Number in the first column to view your order.
Click on the 'Printable Invoice' tab.

You can now print your invoice or save it as a PDF.
Word of mouth is your best method of advertising
Have your existing customers add their reviews to your listing. It's a quick and simple process and will improve your rankings in the search results!
The MyCareSpace team will accept phone, email and written reviews.
MyCareSpace helps service providers connect with customers looking for their services in their local area.
Our connections team connects support coordinators, LACS, participants and their families with services providers, helping them find the services that suit their individual needs. 
With no fee per referral, MyCareSpace offers you a cost-effective way to advertise to the 1,200 people visiting our website every day.
Call the MyCareSpace provider team today on 1300 2888 93 or email us
to find out more about how we can help you reach NDIS participants
The answer is simple. Make sure your listing contains:
Details of your service offering, making sure you have the correct categories of service selected.
Real information - by this I mean information about YOU, what makes your organisation unique, and why people should select you. 
THIS DOES NOT MEAN including your mission, values, and the 14 registration groups you are qualified to deliver! There is nothing unique about this.
Add Keywords (tags) that relate to the services you offer. This will help when people are searching our directory using a keyword search. For example: gardening, lawn mowing, cooking.
No you do not. We recognise that there are many valuable services available from non NDIS providers and not all our consumers are registered with the NDIS.