What we do
What we offer
The Story of Nook
The first days of COVID 19 lockdown bought a certain chaos to our home – gone were the many activities, parties and sports – in their place was TIME and we didn't know what to do with it!
Thankfully our children led the way in us all adapting. Their new play seemed to involve every piece of household furniture, cushion, every pillow and blanket. Our belongings were repurposed for forts, space stations, dark caves and quiet reading retreats. We loved the imagination, the collaboration and the freedom of it all. I just struggled with the mess!
This led to a revamp of our living and play area where we trawled the web for a proper solution – something that allowed our children creative freedom, encouraged independent play and was safe and cosy too. We wanted it to be more than simply a piece of furniture – that didn't just take up space, but actually complemented it.
So we started some grown up imagination – could we create something that fulfilled so many different needs and looked appealing too? Something hard wearing, Australian Made and ecologically sound?
This is where Nook was born – somewhere to play, to ignite imagination, to relax, to connect and to sleep. From our family to yours, we hope you love your Nook as much as we do xxx
What We Offer?
My NooK is the ultimate children's play sofa. This is a luxury piece of furniture that kids can actually play with. The Australian design can be used as a seat on the floor, a cubby in the corner, an obstacle course down the hallway or a sleepover bed. It's a versatile piece of furniture that doesn't just take up space, it actually complements it.
Our NooKs:
Support physical development & milestones
Promote interactive, imaginative play
Help to develop gross motor skills
Promote family & social interaction
Foster learning, communication, coordination & social skills
Are soft, safe & comfortable for children with sensory needs
Stimulate the imagination and can be used in telling social stories.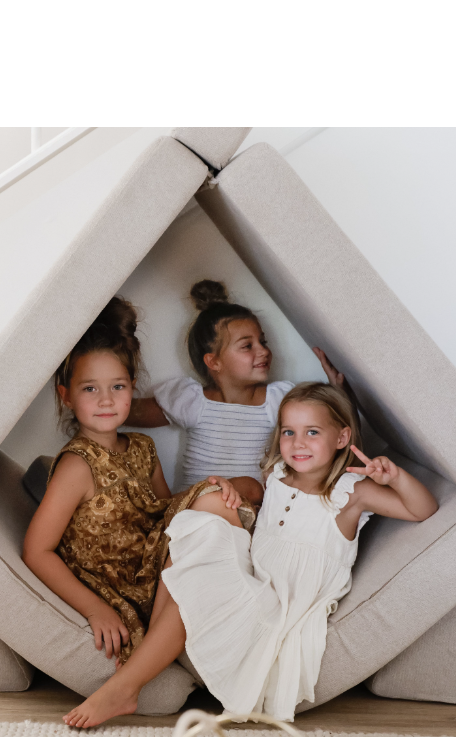 We are able to lodge requests through the MyPlace portal for the purchase of NooKs using NDIS funding. We are also happy to issue invoices for approval through Self-Managed and Plan-Managed funds. These are available by request for the first two weeks after our Order Reopening dates for orders shipping the following month.
Have a look at some great Nook videos
NooK Build Ideas -    https://vimeo.com/manage/videos/513142327
NooK Nest -               https://vimeo.com/manage/videos/704029838
NooK - How We Make Our NooKs - https://vimeo.com/manage/videos/712487284
The Good Design Awards Jury commented:
"This is an original and wonderful piece of children's furniture, with endless possibilities for play and imagination. It's the ultimate cubby! The playful design looks like fun, and the customer reviews point to the high-quality of My NooK. The product is simple and intuitive, well-made and showcases a great colour palette. It's a brilliant product for kids and parents alike. Well done." 
Videos
Downloads
Cromer 2099, NSW (Head Office)
Unit 1, 14 Inman Road Cromer
Cromer
NSW 2099