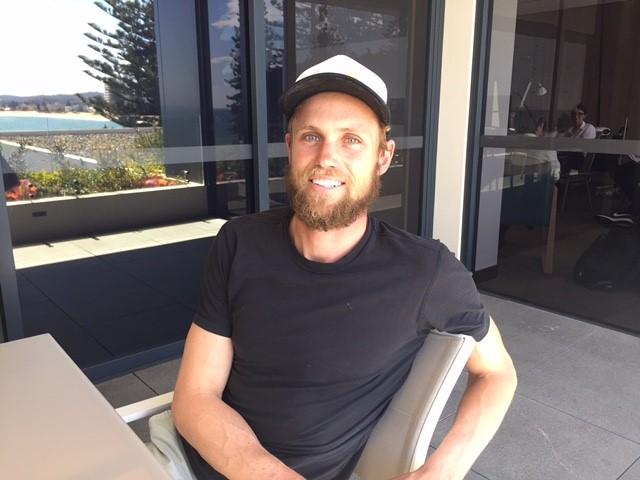 Seb, Sargood & Sport
Submitted by
manager
on Wed, 09/13/2017 - 14:42
Who is Sebastian?
We could not have picked a more beautiful day to meet Sebastian van Veenendaal, the Sports and Rec specialist at the spanking new
Sargood on Collaroy
resort on a balmy 32 deg September spring day, with the sun bouncing off the ocean and a cool sea breeze to top it off.
Sebastian has been Royal Rehab's Return2Sports specialist for many years until he recently relocated to the beautiful beach of Collaroy where he is now permanently based, working with Sargood guests. Anyone interested in returning to sport after a spinal cord injury needs to get familiar with Sebastian and Sargood on Collaroy.
We defy anyone who can find a person more passionate and experienced in supporting people to get back into sport or other recreational activities after a spinal cord injury.
Its not just about the sport
What strikes us when chatting to Sebastian is that he is not so much focused on the technical aspects of adaptive sport, but more so on the overall wellbeing of his guests and most especially their mental wellbeing. Part of Sebastian's job is to make peoples' stay at Sargood more enjoyable, but more importantly it's about developing skills they can take home with. Skills that will allow them to continue to do the things they love to do. So, be it cycling, snorkeling, swimming, surfing, fishing, kayaking, rock climbing, shooting or golf - there does not seem to be a sport that Sebastian's clients cannot get back into.
'We do an initial rec assessment when guests arrive and focus on understanding what are the things that person loved doing prior to their injury. Leisure is such a huge part of our well-being and people often underestimate the long term impacts of not participating in leisure and recreational acitivies.'
It's been well documented that getting people back to work as soon as possible after an injury has both economic and social benefits. Do we understand enough as a society about the importance of leisure and what happens when we have limited access to social and recreational activities ?
Sargood will work with all funding arrangements which guests with spinal cord injuries might have access to - many people may receive funding from
iCare's
Lifetime Care and Support Scheme
or the NDIA. Sebastian and his colleagues will work with clients to understand how they can use their NDIA packages to access the facilities that the resort has to offer.
The staff here go above and beyond by working with guests to understand their access to various funding options and also work with the guests' own support team so once they are back in their home environment they have all the knowledge, equipment and ' know how' to continue doing the sports they love. Below is a picture of James Dakin,the resort Manager in the resort gym with all their state of the art equipment.
What is Sargood and what have people said about them on MyCareSpace?
Sargood is a custom built resort, equipped with state of the art equipment and gym for people with spinal cord injuries. The owners of the resort have invested heavily in creating a beautiful aesthetic and environment which does not have the look and feel that other rehab places might have.
Sargood is listed on MyCareSpace and this is what some of our members have said about them:
' It's exciting that Sargood happened and Sydney should be proud because I think it's a worldwide first - what I loved most:
location, location etc... (and opportunities for those interested to make use of the beach, and sea surrounds)

the discretion, look, design of the building which puts those with spinal injuries first without shouting "wheelchair city"

the great staff..."
Sebastian can be contacted on 8597 0600